Exciting News! Unique Windows and Doors is very proud to announce that we have been awarded "Highly Commended" in the 2021 AGWA Design Awards for Large Showroom of the year. This showroom award complements the very positive feedback from our visitors. It is very rewarding to hear the "wow" that new visitors whisper as they walk in.
A Showroom Designed For Our Customers
When we designed our purposely-built factory and showroom, we planned the showroom to showcase our professionalism and our care for our customers. We wanted our customers to feel welcome and to be confident that they would receive sound advice; and that their own customers could find here all the information and advice they may want.
Our large showroom showcases a wide range of products from simple windows and doors to technologically advanced products. Colour and hardware selection boards, product plaques with key technical features information are just the beginning! Our displays demonstrate how our window and door solutions can deliver many smart ways to create a seamless indoor-outdoor living environment. And that includes noise reduction, temperature control, safety and security… Customers can see, feel, touch, try our solutions. So they can gain confidence in what they are trying to achieve.
Additionally our reception desk is an engaging space that makes it easy to discuss projects. Visitors can also view past examples of our work and meet our experienced team.
View our photo gallery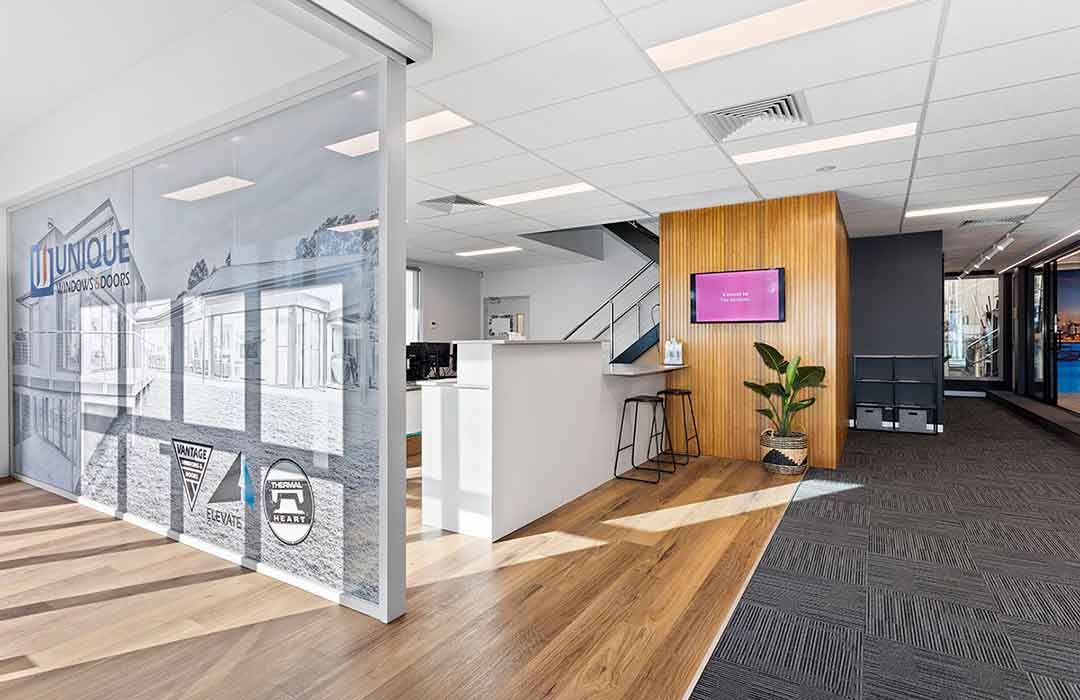 Thank You
Our special thanks for this showroom award go to
Our staff here at Unique Windows and Doors who always strive to produce the highest quality products.
AWS for their support, in particular Chris Kean, for his guidance and direction throughout the design and construction process.
And our other suppliers, not only for their help with the showroom, but also for their support in working with us to deliver custom made solutions for all our customers.
Preparing Your Next Project
To book a consultation please fill the contact form on our contact page