We all have to plan to live with Covid, or other pandemics, for a the foreseeable future. That can mean setting up a home office to work from home part time or full-time, possibly for years. And regardless of pandemics, technology makes it increasingly easy and relevant to work from home. So the need for a real home office is spreading fast. Buyers and renters will increasingly look for a well thought-out and integrated solution for working from home.
It is time to think about turning poorly used spaces into simple smart home offices that make us efficient.
Let's face it, working on the kitchen table is not a viable option. Even more so when you have a young family. Setting up a proper work area makes you efficient and professional. Imagine an area that eliminates disruption, loss of focus and family stress. Are you planning to reuse a "spare room", or extend? Either way, you are wise to aim for an optimal combination of efficient layout, appropriate privacy and a professional image.
Unique Windows is very proud of having helped a young professional couple to renovate their home with replacing a underutilised lounge room by a very smart home office. In fact, it adds to the look of the entrance of the house and improves quality of office life and home life.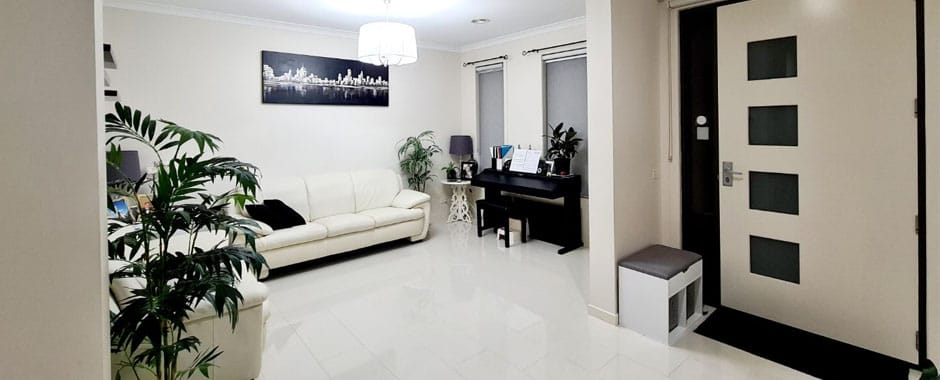 A SMART HOME OFFICE SEPARATING WORK AND HOME
As you can see, the original lounge provided a good starting point, but no privacy. Now a new glass wall and double door with neat modern looking black aluminium frames separates work and private life:
The new wall and door signal that you are walking into a professional office. This is great for focusing on work when stepping inside.
The elegant hallway and office door combination provides quite a dramatic effect.
And of course the hallway enables access to the family areas at all times, in particular for the 2 young children.
Excellent sound proofing and a curtain ensure that the office is dedicated to working in peace and quiet. It promotes concentration and creativity.
Overall the classy and professional look make it very easy to conduct a business meetings there or online.
This solution also enable a versatile use of the space as the room can be easily repurposed in the future, should the needs of this family evolve. In fact, as a bonus, it adds value to the property.
Imagine the peace of mind and focus you would experience working in such a home office! You and your family benefit from a smart makeover that makes good use of your available space and frees you from unnecessary stress.
Of course, your own home may have a different layout and other sources of natural light; your job may also have specific requirements that the design of your home office must take into account.
If you are inspired to act, talk to Unique Windows & Doors. We will design an optimal solution around your home and your work life balance needs.